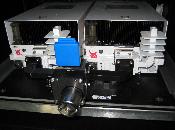 Sale Type: Orderly Liquidation
2015 C-Band Flyaway Antenna System with Ku-Band option
---
Asking Price: $39,500.00
Includes: (2) Advantech Wireless Model SSPBMg-K125-CRE 125-watt Ku-Band Amplifiers; TVLogic Multi Format Model LVM-173W-3G 17" High-def LCD Monitor, SDI Fiber Router System UDS 64X64 SDi Rackmount Router System, 220VAC Power Breakout Panel with 100' SO 10/3 Cable & Breaker, (4) Custom Travel Cases,
(read more)

Contact: Contact Us
Tel: 1.800.4.NASSAU

Bid on this item!

Sale Type: Orderly Liquidation
(81) 2007 AirLink PinPoint C3316-S Wireless Modems (Sprint) w/ GPS
---
Asking Price: $6,000.00
AirLink PinPoint CDMA 1XRTT Wireless Cell-Cellular TCP/IP Data Radio Modem Mobile Communications Devices with GPS Capabilities. Includes: (8) Quad Band Antennas; (2) Bags of assorted wires/cables. Provides data over wireless network, PPP connection, or as raw serial data stream. As a standalone in
(read more)
Contact:
Andrew Hayes
Tel: 516-345-6302
Bid on this item!