Sale Type: Orderly Liquidation
(40) Orbcomm GT 1100 Solar Powered Trailer Tracking Devices
---
Asking Price: N/A
With (23) Sets of Cabling. New/Unused in Original Packaging GPS Trailer Tracking using Solar-Power. Complete Visibility for Tracking Trailers and Containers, Without Maintenance or Frequent Battery Changes. Ruggedized, easy-to-install device with a low profile, making it ideal for tracking
(read more)

Contact: Contact Us
Tel: 1.800.4.NASSAU

Bid on this item!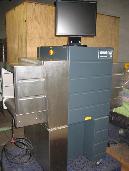 Sale Type: Orderly Liquidation
2009 Smiths Hi-Scan 5030si X-Ray Inspection System
---
Asking Price: $12,500.00
Smiths Heimann HS 5030si Mobile X-Ray Security Inspection System. Tunnel Size: 21" x 13" high. Siprox Workstation Advanced Options: Hi-Mat Plus, Hi-Spot, Super Enhancement, Image Storage, Optizoom. Includes: 17" LCD Monitor. Being one of the most space-saving X-ray inspection systems, the HI-SCAN 50
(read more)
Contact:
Andrew Hayes
Tel: 516-345-6302
Bid on this item!